Robert Smilie (July 4, 1853 – December 11, 1897) was a well-known contractor and capitalist. Along with his brother James Smilie, he owned Smilie Brothers which was located at the northeast corner of 1st and Webster.1
His brother Alexander Innes Smilie (1858 – June 10, 1910) was mostly involved with hardware in Livermore. He also had another brother, John William Smilie (c.1855 – May 19, 1934), and a sister, Annie Jane Smile (c.1863 – 1937).
Biography
Robert was born on a farm outside Montreal, Canada, and came to the U.S. in the 1870s. Robert married Mary A. Smilie (Saunders) (December 18, 1860 – August 27, 1951) and they had two children, Robert Howard Smilie (January 1, 1886 – April 22, 1946) and Florence Smilie (October 29, 1891 – November 18,1946).
According to an article published in the Los Angeles Herald on Dec. 12, 1897: 8
"Robert Smilie was perhaps the best known contractor on the coast for he had worked from Los Angeles to Seattle. He was a native of Ontario, Canada, and came to Oakland a poor boy of 24 years Just 20 years ago. He begun as a carpenter and branched into contracting and success attended his efforts from the first. He was joined later by his brothers Alexander and James Smilie and the three engaged In business together. His success continued and he amassed a fortune. Among his possessions are the Metropole hotel and other valuable property in Oakland, several large tracts of land in Fresno, and a beautiful home at the corner of Webster and Telegraph avenue in Berkeley...
Robert was accused of doing a bad job of painting a high school; supposedly it was painted with a substance close to mud and had to be redone. Robert had finished the surface with stucco, and the misunderstanding was resolved to everyone's satisfaction.2
In 1895, Mayor Davie removed the access to Robert Smilie's business on Harrison Street, claiming it was part of the waterfront title. Robert sued the city, stating he owned a lease to the North side of First Street from Webster to Alice -- a part of the Peralta grant -- and built a trestle in order to run his lumber business. The people he sued caused a group of men to tear down this trestle and prevented him from doing business. 3,7 Smilie rebuilt the trestle a few weeks later. 9 According an article in the San Francisco Call on December 25, 1895:
"Robert Smilie built his trestle across Harrison street this morning, and will at once use it as a lumberyard. This is the place that Mayor Davie cleared off a few days ago. The title to the land is that of the Peralta grant, and is not involved in what is known as the water-front title, and until the matter is disposed of in the courts no more steps will be taken."
1896, Smilie Brothers was party to a lawsuit with Fresno County regarding the building in 1893 of two wings of the county courthouse. A judge ruled against the county, which contended that the additions and alterations came under the contract, and awarded the Smilie Brothers a judgment of $6708.62. 6
According to the San Francisco Call in the 18 June 1896 issue, Robert Smilie, one of the contractors of the City of San Francisco, was a recognized leader in the industry throughout the State.10 Shortly before his death, Robert was nominated for president of the board of the San Francisco Builders' Association. (Brother James was president of the Oakland Builders' Association in 1898.)
Smilie was a member of the Knights Templar order of Freemasonry. 4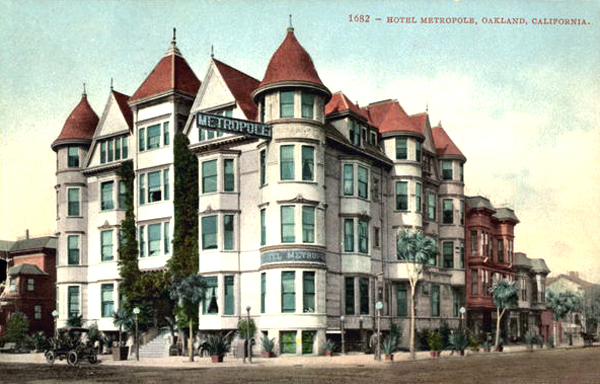 Robert and his family lived at 1125 3rd Avenue in 1892. Most notably they lived at a beautiful home at Webster and Telegraph in Berkeley, c.1897. Robert owned the Metropole Hotel in Oakland, as well as other properties. 5,8
Son Robert H. played tennis at the Oakland Tennis Club. c.1917 and worked for Bay Cities Iron Works, at 4th Street and Washington in Oakland.
Death and burial
Robert Smilie was crushed to death on December 11, 1897 beneath a falling timber at the old Starr mill at Crockett, Contra Costa County, as he was making an inspection of the work of remodeling the old flour mill Into a beet sugar refinery.8 A funeral service was held at James' house, and last rites were held at the local Masonic Temple. Representatives of various Masonic organizations came to the funeral, as well as members of the Odd Fellows. 4 Robert is interred at Mountain View Cemetery.
Links and Refrences
MEETS INSTANT DEATH BY A FALLING TIMBER San Francisco Chronicle Dec 12, 1897
Painted With Mud San Francisco Chronicle July 29, 1891
SUITS FOLLOW HIS WATER-FRONT RAID San Francisco Chronicle Dec 13, 1895
Sir Knights Do Honor to Smilie San Francisco Call December 15, 1897
Metropole Hotel is Sold By Local Firm San Francisco Call May 31, 1913
Fresno County Loses a Suit San Francisco Call December 15, 1896
Smilie to Bring Suit San Francisco Call December 3, 1895
Crushed to Death by a Falling Timber in a Mill Los Angeles Herald December 12, 1897
Smilie Rebuilds San Francisco Call December 24, 1895
San Francisco's Buildings San Francisco Call June 18, 1896.