Photo Credit: thomaschristopherhaag.com
Piedmont Avenue is a neighborhood in North Oakland adjacent to Temescal, Rockridge, Mosswood, and the City of Piedmont. Its major features are the Piedmont Avenue shopping and dining district, Piedmont Theatre, Mountain View Cemetery, and Kaiser Permanente Hospital. Piedmont Avenue is one of the most vibrant shopping districts in the East Bay due to its unique collection of independent businesses and role as a gathering place and errand-running hub for residents. In addition to its well-known dining and shopping, Piedmont Avenue also offers spas, dessert shops, nail & hair salons, business centers, groceries, book stores, pet supply and services, laundry services, fitness clubs, pharmacies, wine stores, a library, bank outlets, and a US Post Office branch. With both an elementary school and a large retirement residence, the neighborhood has a wide spread of age groups.
Natural History
Situated in Oakland's foothills, it sits in a depression between a ridge to the southeast and a low rise to the northwest. Glen Echo Creek drains Moraga Canyon through Mountain View Cemetery, and runs through the neighborhood mostly underground, although it runs in the open for several hundred feet through Glen Echo Park between Panama Court and Montell St. Further downstream it resurfaces again across MacArthur in Oak Glen Park for another several hundred feet before being buried and finally emptying into Lake Merritt near the Cathedral of Christ the Light at Grand Avenue. A thorough history of the main branch of Glen Echo Creek was compiled by PANIL, a neighborhood group. A second branch, called the Rockridge branch, originates above Claremont Country Club, flows through Bilger Quarry by the Pleasant Valley Safeway complex, and continues underneath Mosswood Park before joining the main branch below Glen Echo Park. There is a very short open stretch of creek in the block bounded by 38th St, Macarthur, Broadway, and Manila Ave.
Mountain View Cemetery, while heavily modified, is the largest remaining semi-natural space in the area. Black-tailed deer and wild turkeys can be seen in the cemetery. Local neighborhoods see the occasional raccoon, skunk, opossum, and rat, as well as hawks, crows, and a variety of songbirds.
History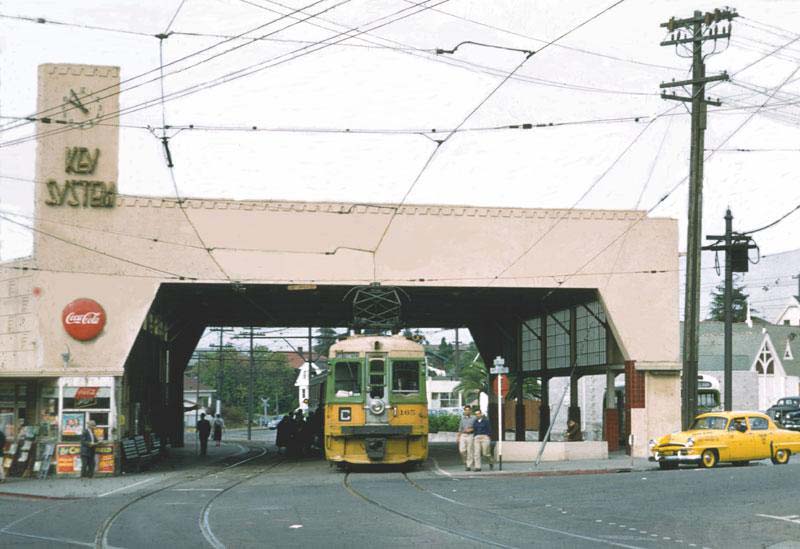 An excellent source of information on the history of Piedmont Avenue is a 1977 article by local historian Ted Wurm interviewing long time Piedmont Avenue resident Nels Carlson on Historic Piedmont Avenue.
The famous Key System streetcar company established its first transit depot at what is now known as Key Route Plaza at the corner of Piedmont Ave and 41st Street. Today, half of the depot building remains as a cafe, and the other half has been replaced by a parking lot, a telling fate for a train system displaced by the rise of the automobile.
There are two separate buildings on Piedmont Avenue designed by Julia Morgan: The Fred C. Turner Shopping Center between 40th and 41st, and the Chapel of the Chimes at the gateway to Mountain View Cemetery at the northern end of the street. The cemetery itself was designed by Frederick Law Olmsted, acclaimed designer of New York's Central Park and much of UC Berkeley campus.
Murals
A mural on the former Key System streetcar depot at 41st & Piedmont Ave, now partially occupied by Cafe Trieste. Mural by Rocky Rische-Baird, 2006.
The Ohlone Mural, created in 2006 by Rocky Rische-Baird. At 41st & Piedmont, the mural is outside of Gaylord's Coffee.
"Busy Day for the Medicine Man", Thomas Haag, 2011. Outside Holistic Veterinary Care building at Piedmont & Brandon St. Photo Credit: http://thomaschristopherhaag.com/
"The Rare Bird", Thomas Haag, 2011.
Located in the alley between the Rare Bird store and Cato's Alehouse.
Photo Credit: http://thomaschristopherhaag.com/
Events
The Piedmont Avenue Merchants Association (PAMA) sponsor annual community events, including a Halloween Parade and a Holiday Tree Lighting Ceremony. Mountain View Cemetery also welcomes the community with several annual events, including its annual Pumpkin Festival and its Holiday Circle of Lights tour.
PAMA also organizes monthly shop/dine/art Piedmont Avenue Strolls, as well as Spring music and flower shows.
Kaiser Oakland Hospital hosts a farmers' market on Friday mornings.
Restaurants
The mix of fine dining, California cuisine, cafes, sandwich shops, and pizza joints make Piedmont a foodie destination, even in a crowded East Bay scene.
Dining:
Commis - The most highly decorated on the street, it won a Michelin star shortly after opening. Founding chef: James Syhabout
Homestead - The hottest restaurant on the strip, and according to the SJ Mercury, the whole Bay Area. California Farm-to-Fork. Founded 2013 by Fred & Elizabeth Sassen.
Adesso -
Dopo -
Lococo - Italian
Itaba - Japanese, Sushi
Xyclo -
Shimizu - Japanese
Messob - Ethiopian
KronnerBurger - Highly acclaimed, relocated from SF's Mission to the former J's Mexican location, opened May 2015
BA-Bite, North African/Mediterranean cuisine
Mistura Rotisserie, Peruvian cuisine
Family-Friendly:
Acme House of Music - music store and school serving Oakland for 47 years.
Fenton's Creamery - A old-timey institution of an ice cream parlor, with a full dinner menu.
Lotus Thai
Little Shin Shin - No-frills Chinese food, but tasty enough.
Infinite Thai
Masala - Indian
Ninna - Thai fusion
Piedmont Cafe - A solid greasy spoon diner.
Holly's Mandarin - Chinese food. Slightly more frills.
Sparky's - Burger joint, modeled after Barney's.
Park Avenue Bar & Grill - 
(Planned) Chow - Family-oriented dining housed within a food market. The 5th branch of a local chain. New building to replace vacant structure at Piedmont & Yosemite. Scheduled opening unknown.
Grab & Go:
Geta - an excellent and inexpensive Japanese restaurant. Be prepared to wait in line as it is very small and popular.
AG Ferrari Foods- Fine sandwiches, made to order from their stock of gourmet imported Italian ingredients.
Gregoire - Fancypants burgers in boutique boxes.
Slicers Pizza - Excellent. And pricey.
Posh Bagel - Family-run, it gets the job done.
CyBelle's Pizza - renovated in 2014.
China Garlic
Simply Greek
Baja - Burritos & tacos with yummy beans and  fresh salsas.
Raj India Cuisine (adjoins Kerry House) - Strange business combo, but their food satisfies a craving.
Cafes:
Caffe Trieste, Gaylord's Caffe Espresso, La Farine (Boulangerie/Patisserie), Timeless Coffee Roasters, Peet's, Starbucks
Darling of the coffee world Blue Bottle opened a new location on the edge of the neighborhood, at Broadway & Mather St., February 2014.
Bars & Nightlife
Piedmont Avenue has several bars, which add flavor and make the avenue more vibrant.
Dives:  Kona Club (very tacky), Kerry House (very good)
Hip Bar/Restaurants: Adesso (custom cocktails, detailed, dressed-down fancy-feeling), Bar César (buzzing, casual, refined), Itaba (gorgeous, tasty, relaxed), The Lodge (hipster hunters sipping custom cocktails).
Pub: Cato's (a winner, even if the category was crowded - excellent beer selection, excellent menu, plus a porch, live music, and trivia night)
Nearby & Notable
Morcom Rose Garden: The Amphitheatre of Roses is nestled in the hills between Piedmont and Grand Avenues.
Morcom Rose Garden
Homeroom
Broadway Development: The long-awaited revitalization of the section of Broadway Avenue paralleling Piedmont Ave. has shown increased momentum since 2011. In recent memory it has been a culinary wasteland of shops offering up junk food to nearby Oakland Tech High School, as well as automotive retail and service shops - with a single exception: Mama's Royal Cafe, a delightful breakfast institution. Ohgane Korean grill made a significant capital investment in renovating its space to offer family-friendly dining. More recently, Blue Bottle Coffee opened a retail location in the old white-tiled W.C. Morse building in February 2014. The old Anderson Carpet & Linoleum building at the corner of 41st St. has breathed significant new life into this stretch of Broadway, opening a CrossFit gym in Spring 2013; Cafe Underwood, with an added patio for outdoor seating, in Summer 2014; and a second location of Oakland startup Trueburger in early 2015. 
40th St. Development: This activity has coincided with the steady pickup in small business activity on 40th St. between Broadway and Macarthur BART, which is being redeveloped as a high-density transit village with retail shopping. Manifesto Bicycles (2008), 1-2-3-4 Go! Records (2008), and Subrosa Coffee (2009) led the way, and have beaten the odds by surviving in an unlikely location during a down economy.
In 2011, Homeroom, the always-packed mac & cheese eatery (not to be confused with Piedmont Ave.'s Homestead) kicked off the more recent wave of new businesses when it was started on the ground floor of a newly-constructed modern apartment building. In 2012, Manifesto Bicycles and Subrosa Coffee partnered to install the second parklet in Oakland, and Beauty's Bagels opened on nearby Telegraph Ave. Hog's Apothecary followed on 40th near Broadway in 2013, serving upscale beer and sausages. Elder and Pine, a vintage clothing store, opened in 2013, and 1-2-3-4 Go! expanded for a third time in January 2014. Homeroom's production and 'to-go' business expanded into a second location one block away in late 2014. A new 'whole animal' restaurant and butchery called Clove & Hoof opened in late 2014, at the corner of these two hot streets: 40th & Broadway. In early 2015, Elder & Pine announced plans to move to Rockridge. In its place, Green Day's Billie Joe Armstrong and partner Bill Schneider will open a guitar store called Broken Guitars (slated for opening April 1).
This trend is anticipated to continue with the construction of the Macarthur Transit Village; the redevelopment of the Pleasant Valley Safeway complex; the recent construction of new Kaiser Hospital buildings in the vicinity of Broadway/Piedmont & Macarthur Ave.; and Oakland's initiative to redevelop the Broadway/Valdez district, spearheaded by the 2014/15 construction of a Sprouts grocery store at the merge of Piedmont & Broadway.
Nearby: Mural of the entrance to Rockridge at the time of the neighborhood's creation. Located on Broadway at 51st St./Pleasant Valley Rd. By Stefen, 2009.
Nearby: Mural of the pergola at Lake Merritt. Located on Pleasant Valley Rd. at Broadway. By Stefen, 2005.
Neighborhood Issues & Developments
Egbert Souse's negatively impacts Piedmont Avenue residents, visitors and businesses. The bar Egbert Souse continues to be both dangerous and the scene of an increasing number of shootings, which was discussed in detail at a meeting with Oakland police and city officials in August of 2013, where neighborhood residents reported rowdy activity outside of Egbert Souse's. The local residents complained of frequent gunshots, loud arguments and suspected drug dealing outside and inside of Egbert Souse's bar and restaurant at 3758 Piedmont Ave., at the corner of MacArthur Boulevard. Update: Egbert Souse's has been sold to Weinstein Commercial Investment, a developer behind many signature Oakland restaurants and bars. They plan to convert this space into an upscale bar called The Lodge at Piedmont. Egbert Souse's is now closed and under renovations.
The multi-year construction of the new Kaiser Oakland hospital building has caused traffic impacts throughout the neighborhood. There is concern that the expansion of the hospital will increase traffic congestion and parking scarcity in an already-crowded area. The scale of development has also raised objections among residence due to the long stretches flat building face, with no public engagement. This latter concern was partially addressed when Kaiser agreed to open up the landscaped corner of Piedmont & Macarthur to the public for the interim. Long-term, Kaiser has stated its intentions to place another building on the corner, a move that could re-ignite neighborhood opposition.
The redevelopment of the Pleasant Avenue Safeway complex at the other end of the neighborhood is planned to be a high-end retail shopping destination. Supporters and detractors agree that this massive project will almost certainly change the character of the neighborhood. While it is anticipated to be a much needed revenue-generating development for the city which refreshes an outdated shopping center, it will further impact parking scarcity and cut-through car traffic on residential streets. Piedmont Avenue has long retained a majority of independent stores, and the addition of a chain-store development nearby may threaten that identity. Note: After the sale of Safeway to Albertson's, the status of this development project is unclear. However, all tenants have vacated the entire eastern portion of the complex, the portion originally scheduled for the first phase of construction.
The continuing rise in property crime and violent crime since about 2012 has jarred the quality of life throughout North Oakland, including Piedmont Avenue. Home break-ins, gunpoint hold-ups, and late-night muggings have caused alarm among residents and sparked neighborhood conversation and organization. This has led to piecemeal security enhancements such as improved outdoor lighting and home security cameras. As in other parts of Oakland, neighborhood groups continue to weigh the pros and cons of hiring private security firms to cover the perceived lack of neighborhood presence by the Oakland Police Department.
Neighborhood Organization
ThePiedmont Avenue Neighborhood Improvement League (PANIL) is the main neighborhood association for the Piedmont Avenue neighborhood.  Business owners in the neighborhood form the Piedmont Avenue Merchants' Association (PAMA).
Pages tagged ""piedmont avenue""